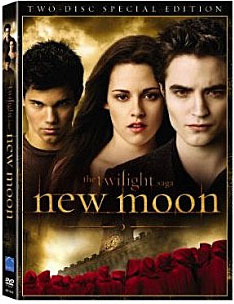 I wasn't sure what to expect from The Twilight Saga: New Moon. Following the incredible success of Twilight, there would obviously be more money to spend on the sequel, so the special effects were bound to be better. Although the screenwriter was the same, the director was new, and like many fans of the book, I was hoping it would be more faithful to original work.
I wasn't disappointed. New Moon follows the book about as closely as you would hope a film could do in a little over two hours of screen time. In it, Bella Swan (Kristen Stewart) and Edward Cullen's (Robert Pattinson) relationship is thrown a curveball when she gets a paper cut on her birthday during a party at the Cullen's house. Edward's adopted brother Jasper (Jackson Rathbone), who hasn't been with the Cullens as long as the other family members, loses control and tries to attack Bella. Edward fights him off, and although Jasper later deeply regrets his actions, the incident changes everything.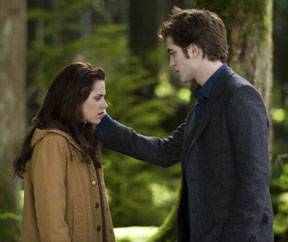 Edward decides to leave Forks. He tells Bella it's for her own good; that he can't be with her any longer. But he doesn't realize how deep a bond Bella has with him. She becomes catatonic and though she tries to behave normally, as if she's not in pain, she doesn't fool anyone. She finds a way to escape the pain, however, when she realizes that doing dangerous things causes Edward's vision to appear. This drives her to become more and more reckless in order to see him and hear his voice. In her quest for danger, she brings two old motorcycles to Jacob Black's (Taylor Lautner) house. While he's fixing them she spends time with him and though the pain of losing Edward never goes away, it eases when she's with Jacob.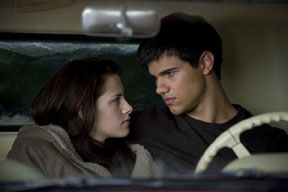 Taylor Lautner does an incredible job with his role. In the book, Jacob often seems sulky and immature. On screen, Lautner portrays him as a vulnerable teen with a full range of emotions as he goes through changes himself, from a happy teen to one who is hurt and confused by the situation he's been put in. I felt sympathy for the screen Jacob, as opposed to the book Jacob. Robert Pattinson doesn't appear in the movie much, because Edward is absent for a great deal of the book. But thankfully when he was onscreen, in this movie he and the rest of the Cullens weren't given white face makeup and over-the-top hairdos. They look more believable this time, less like the clowns of the first movie and more like the exceptionally beautiful people described in the book. Their wardrobe was also stepped up. In the first one, Edward looked as if he bought his clothes from a bargain basement sale. In New Moon, he's dressed in tailor-made clothing and expensive footwear. Alice Cullen (Ashley Greene) is also dressed appropriately—in the books, she insists that the entire family dress in designer clothing so it's nice to see the costume designer was able to replicate that for the movie.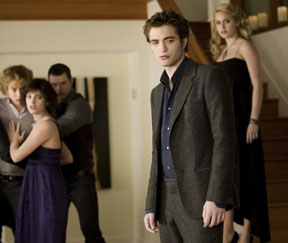 The two-disc special edition includes a Special Features disc with a six-part documentary that takes you behind the scenes of every facet of making the movie, from how the wolves were made, how the motorcycle and cliff jumping scenes were done, even how the Forks High School scene was shot with a green screen, with the school seamlessly inserted in post production. The disc also includes music videos from Death Cab for Cutie, Anya Marina, and Mute Math. I would have given this DVD 5 stars out of 5, but I expected more special features, including bloopers, deleted scenes and trailers. I would have also liked to have commentary by Pattinson and Stewart with the director, which provided not only insight but a lot of laughs on the first DVD. So I'm giving it 4 stars out of 5 because the film was well-done, and the behind-the-scenes feature was interesting, especially for fans who like to see how all the special effects are done. The two-disc Special Edition DVD and the Special Edition Blu-Ray will be released on Saturday, March 20. ~Alexandra Heilbron